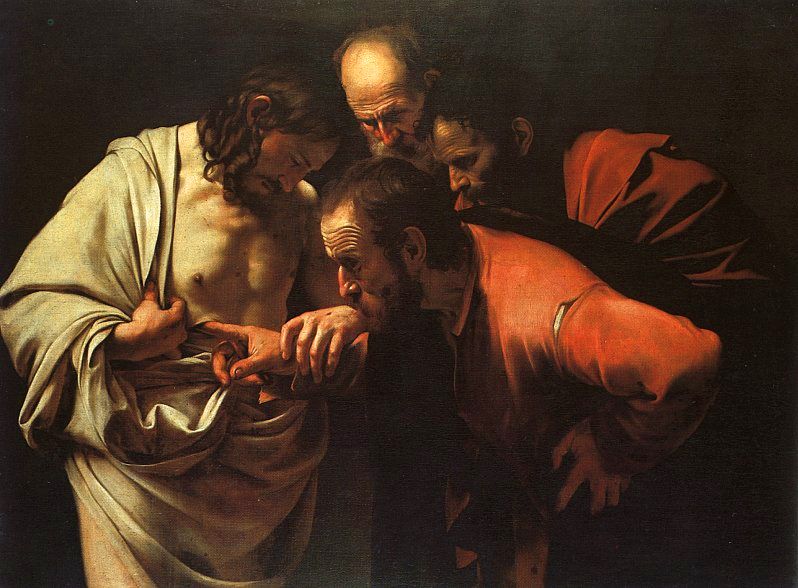 Today is Easter Sunday, or Resurrection Sunday as some believers prefer to call it. It's an amazing story. A man is tortured and crucified, dies an excruciating death, is placed in a tomb, then BOOM! Three days later, he's alive. It's unbelievable, really. It doesn't hold up to scientific facts. People who are dead for three whole days–especially death by crucifixion, don't come back to life and walk around. Even the disciples didn't believe it at first, especially since the first witnesses were women who were considered unreliable sources of information. But then Jesus showed up for dinner–surprise! After that they had no choice but to believe. He stood right in front of them! But Thomas wasn't there. When he heard about it later, he said, "Unless I see the nail marks in his hands and put my finger where the nails were, and put my hand into his side, I will not believe it" (John 20: 25).
I get Thomas. Doubt has been an intrusive companion of mine for over 30 years. He gets quiet for long periods of time, but he never fully goes away. Sometimes he becomes so needy and demanding that listening to him yammer at me wears on my soul. I used to fear him and felt guilty that I couldn't get rid of him. James 1:6 says, "…he who doubts is like a wave of the sea, blown and tossed by the wind. That man should not think he will receive anything from the Lord; he is a double-minded man, unstable in all he does."  I'm pretty sure it's meant to apply to women as well. I'm an unstable, double-minded woman who should not expect to receive anything from the Lord. Whoa. Pretty harsh.
Thomas certainly did not expect anything from a crucified Jesus. But next comes my favorite part of the story. A week after his surprise dinner appearance, Jesus comes back to where the disciples have gathered. After greeting everybody, he walks straight to Thomas. "Put your finger here; see my hands. Reach out your hand and put it into my side. Stop doubting and believe" (John 20: 27). He could have written Thomas off as double-minded and unstable, but he didn't. He came back just for him. Thomas went on to travel to India to tell people there about the risen Messiah and died a martyr there.
The story could have ended with the women saying, "We saw Jesus! He's alive!" and the men scoffing and saying, "Your words are nonsense" (Matthew 24:11). But it didn't end there. Jesus spent forty days among his disciples after his resurrection, and not just the eleven–he also appeared "to more than 500 brothers at the same time, most of whom are still living" (I Corinthians 15:6). Those scoffing men–the other disciples who also doubted at first–did the same as Thomas. They traveled to different parts of the world to tell people about their teacher and friend, and many of them died as martyrs. It makes no sense for them to do that if they made it all up and didn't really see, hear, and touch Jesus after his resurrection.
I've never been able to get Doubt out of my life entirely, and I've accepted that he's probably here to stay. He becomes louder at the oddest times. You'd think it would be when I'm in the depths of despair, but mercifully, he gets quiet during those times. No, he's louder when I read the Bible and come up with unanswered questions or bits that don't reconcile to the image of a loving, merciful God. I've completed a chronological reading of the entire Bible two years in a row now and have begun a third read-through for 2015. Each time, I find more that doesn't make sense to me.
Doubt becomes even louder when I spend too much time online reading comments by other believers who have reduced faith down to a bunch of rules: How to vote, which TV shows to watch, which businesses to boycott, what clothes to avoid, which legislation to support or fight against, whom to judge. I don't agree with all the rules it appears I'm supposed to be following. If I said certain things out loud that I think, some of my fellow believers will say that I'm not really a Christian after all. How can I be a good Christian if I (fill in the blank)? Sometimes I find myself asking where the nail holes are so that I can put my fingers in them and cling for dear life.
I guess I'm not a "good Christian." I don't always believe the same things as other Christians whom I love and respect. I'll always have doubts and question what I read and hear. I am double-minded and unstable. I accept that now. Despite it all, this is what I do know: Jesus came back for Thomas, and He comes back for me. Again and again. Each time I cry and argue and shout and scoff until finally–and unexpectedly–His love envelops me once again, and I end up on my knees in surrender. He just won't leave me alone. I am unstable, but He is my rock. That is why I decided long ago to choose to believe, despite evidence to the contrary. Isn't that what faith is all about, anyway?
[contact-form][contact-field label='Name' type='name' required='1'/][contact-field label='Email' type='email' required='1'/][contact-field label='Website' type='url'/][contact-field label='Comment' type='textarea' required='1'/][/contact-form]